Price: $39.00 (Order this item)
I hit a phase where I wondered how easy it would be to make some assembly line fonts... this was the outcome, created for someone who requested a font that was LED in nature but had a complete character set including international accents.
You tell me whether I did the job right.
How it was Created?
Each letter added to the initial LED figure, though I ended up having to use four different designs to complete the alphabet, the simple figure eight subtracted would not allow me the use of the full alphabet...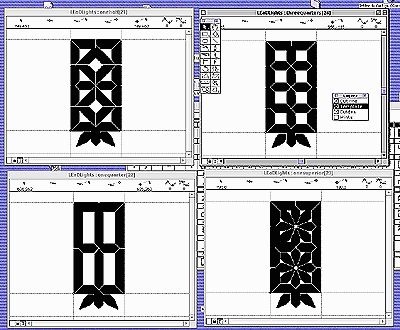 Each of these shapes was subtracted from to come up with the full alphabet. Some of the letters used portions of two or more to make a more legible character.
How can I get it?
This typeface can be purchased as a family of four or individually with immediate download from MyFonts.com by following one of these links...
Purchase Lead Lights Family
(All four of the Lights Fonts)
Are you a distributor interested in reselling SynFonts or interested in licensing the SynFonts Typeface Viewer for your own website? Please contact me using the information below.